To see summaries of the five Thanksgiving books, scroll to the bottom of this post. If you have a couple minutes . . . I'm finding so much to be grateful for these days. Sunsets.
The most precious grandbaby in the whole wide world.
Tater tots and books, a library and bookstore within walking distance, falling temperatures and birds in flight and things to look forward to like dinners and stories around tables . . . and pie. I hope you find some new treasures in the books below: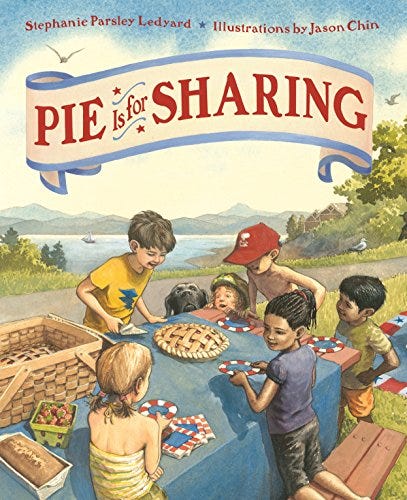 Pie is for Sharing creates a wonderful world, one I wish I could step into. The illustrations paint a picture of a perfect day as different families gather in a park. The kids start off sharing pie, then a book, a ball, a tree, with spare, clever text like "Other things for sharing: a jump rope, your place in the middle, a rhyme (turn the page) time . . . That one word on a beautiful spread where kids build in the sand at the edge of a lake or chase each other through the shallows while the adults sit and chat.
The day ends with sparklers and a shooting star shared on a blanket under the night sky and a little more . . . pie. A lovely circle back to the beginning as the day ends. Not a Thanksgiving book, or even a November book (it takes place in summer) but sharing and giving thanks go hand in hand, and 'tis the season for pies.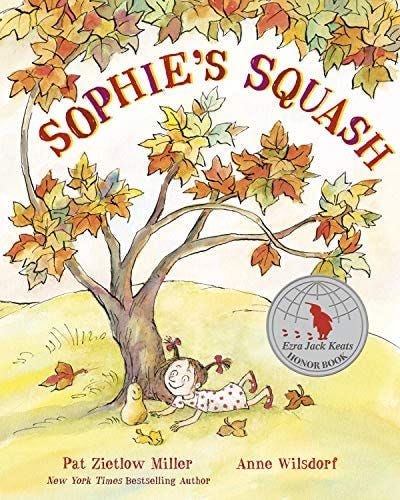 'Tis also the season for squash and Sophie's Squash is adorable. One fall day Sophie chooses one at the farmer's market. "Her parents planned to serve it for supper, but Sophie had other ideas." What a brilliant line, inviting us to turn that first page and find out what she's thinking.
Turns out that squash is "just the right size to love." Sophie gives it a face with a marker and christens her Bernice, and after that they're inseparable until Bernice begins to go soft and spotty. Sophie asks the man at the farmer's market how to keep squash healthy, and he tells her fresh air, good dirt and a little love. She tucks Bernice into a bed of soft soil, and that night it snows, but come spring, Bernice produces two small squash who Sophie names Bonnie and Baxter. This is a sweet story of friendship and hope, the parents are kind, and Sophie is so loyal. May we all have a Sophie in our lives.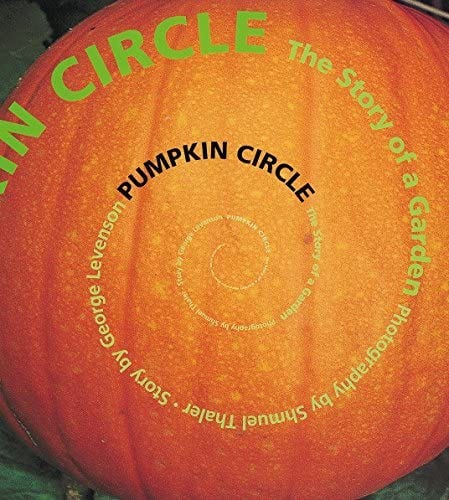 Pumpkin Circle is an ode to the pumpkin, following its path from seeds that reach with "silky roots" to grow a dense patch of leaves and vines. Their "twisty tendrils grasp like hands stretching out to cling. They roll down into fancy curls and wind up just like springs,"