There are so many books that can be read about courage, and so many reasons kids (and adults) need them. These are just a few of the ones that capture my heart and inspire me.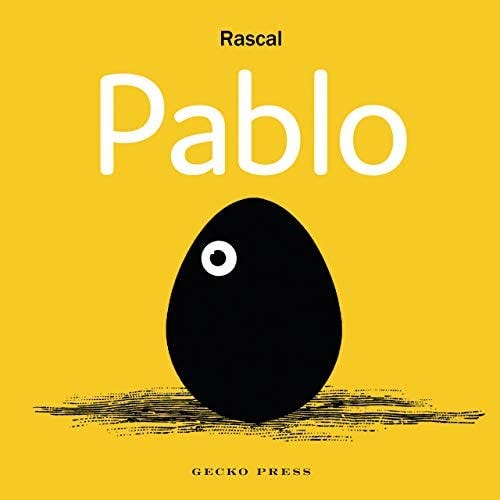 This is a simple, odd book, and it's about so much more than a chick hatching out of a shell. It's about starting new things (like a new year!) and how it's exciting but also scary so maybe you take it one peck at a time. It's about not missing a speck of the world around us. It's about moving forward while not entirely leaving what's behind us.
There's suspense as we slowly see first one eye, then another, a beak, a leg, a wing emerge from the shell, the entire book in black and white, until we see the full yellow chick. And there's delight in imagining this chick inside his shell, having "a small croissant and a hot chocolate" to gather his strength. "Pablo has to come out of his shell. He's too big for it." I could share this with my 8 month old grandson, or my 75 year old mother, and they'd both love it for different reasons. Or maybe the same. Love it for it's symmetry, simplicity, surprises, and sweet story.
Story Boat by Kyo Maclear, illustrated by Rashin Kheiriyeh
A picture book totally rooted in what a child's perspective may be like for a family forced to flee their home. It is traumatic and chaotic and yet kids are kids are kids, and they bloom where they are planted. Their imaginations buoy them, blessedly ignorant of some of the trauma and uncertainty. There is sadness as they traverse barren landscapes, migrating with people of all ages, or stay in tents, but page to page there is hope as they look at each small belonging they still have and imagine where it could take them.
Here is a cup.
Old and fine, warm as a hug.
Every morning,
As things keep changing,
We sit, wherever we are
And sip, sip, sip,
Sippy, sip, sip
Ahhhh
From this cup.
We turn the page and are transported, with the kids, in their cup. It makes me think about my own ""familiars," and how they are my home just as surely as the walls and roof. I put this as a January, New Year, pick because it is about new beginnings, and hope. It also inspires me to connect with those in my city who are recent immigrants and listen to their stories, like boats that have carried them to our foreign shores.
Courage Hats, by Kate Hoefler and Jessixa Bagley
I love the set up that comes in the first few pages of this book. "Not everyone loves a train. That's the world. But sometimes you've got to take one anyway." What a great line, shorthand for so many times when we find ourselves in unavoidable, fear-inducing situations, whether it's the first day of kindergarten or college.
This is the sort of beautiful book that can be shared with all ages. You've got a small girl named Mae. The train will take her deep into bear places, and bears are big and eat small things. And you've got Bear, who is big, and the trian is heading into people places. People are small and eat big things.
Did you know you can wear courage on your head? Part of the charm of this book for me is how in the midst of the simple story of a girl and a bear on a train, truths are stated. In this world you may be afraid of trains, but you can wear courage on your head. "No matter how you feel about a train, someone else feels the same way." What a comfort that is! And in the end, when you share your fears and go through something hard together you don't need that courage hat anymore. You've made a friend, just like Bear and Mae, who end up at camp together in the end. It is about the big and the small, courage and friendship and paper bag hats all wrapped up together.
Before She Was Harriet by Lesa Cline-Ransome, illustrated by James E. Ransome
This would be a wonderful first introduction to Harriet Tubman, a glimpse at so many different roles this incredible woman played accompanied by gorgeous illustrations. At a time of year when I'm looking backward as well as forward, I am inspired by a life so well-lived. Each page goes back in time, starting when Harriet is an old woman to when she was Harriet the suffragist, and before that a General (ferrying slaves to freedom across the river at the end of the war), Union spy, nurse, Aunt Harriet who helped her parents make it to freedom and a new home in Canada, Moses, and even further back to when she was a conductor on the underground railroad,
with no trains
and no tracks
just passengers
traveling to freedom
up north
through swamps
past slave catchers
across rivers
under the cover of night
and then way back to when she was a slave called Minty, and before that to when she was Araminta, a young girl.
What a wonderful way to honor this incredible woman, and remind us that our days add up to our lives. As a new year rolls in, I'm reminded to make those days count.
Lincoln Clears a Path: Abraham Lincoln's Agricultural Legacy by Peggy Thomas, illustrated by Stacy Innerst
This one is a big longer so good for slightly older kids, it's a brilliantly written book tracing the dawn of a new age ushered in by the signing of the Emancipation Proclamation, but looking at it through the lens of farming and its impact on Abraham Lincoln. He used what he knew about working and clearing the land to inform how he cleared a path to freedom, an unexpected analogy that works really well. Thwack! He cut trees with his dad to clear a path for fields. Swish! He cleared brush. Thwump! He pulled stumps. Yah! He used a horse to plow fields.
The book starts with carefully chosen anecdotes about Lincoln's childhood. He once planted seven acres of pumpkin seeds that were washed away in a storm, learning how to deal with frustration and disappointment and not give up. He went back for his dog, left behind on the icy banks of a river when his family moved, showing that even at a young age he cared for the less fortunate, and had a tender heart.
I didn't know that Lincoln was responsible for the USDA (thwack!), which supported farmers who supported the troops. Or the Homestead Act (swish!), that allowed citizens and immigrants who believed slavery was wrong to settle land in the west. He created the Pacific Railway Act (thwump!), clearing a path across the nation, and he created land-grant colleges (yah!), clearing a path for students. All these facts that could have felt dry and boring are presented in a compelling way, bringing the language from the fields to governing and showing how there were so many things beyond the Civil War that tended the soil that eventually grew into the Emancipation Proclamation.
It's a good book for any time of year, and inspiring as we begin a new year to think of what we're capable of no matter what our background. How can we ""Lincoln"" our lives to make this world a better place? "